Animaux de compagnie
I've got two pet doves. They're a mostly domesticated offshoot of les tourterelles rieuses, commonly called ringneck doves or barbary doves.
The two don't actually get along when living in the same space (doves can be surprisingly territorial), so they live in adjacent units in the same room. I can tell they benefit from the company since they still show flocking behavior by eating, bathing and preening at the same times, but this way they each have their own space so they dont have to feel stressed.
More photos coming soon!
Curie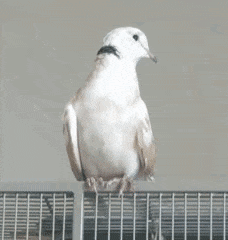 Curie was hatched sometime in 2013. He joined my family that winter. I originally named him after Marie Curie, as I thought he might have been female, but he's never laid any eggs and acts very masculine.
Likes:
Food in general, but particularly:

Split peas
Safflower
Millet on the spray
Shelled peanuts
Hulled sunflower
Boiled egg

Being in charge
Staying clean, even if the bath is too small
Being part of the conversation
El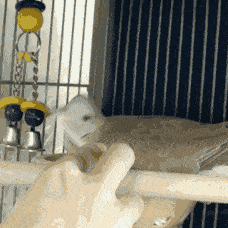 I think El was hatched in 2015, but I got her a little later from another family. She already had her name, El, which was given to her not by that family but by her original caretaker before them, so I dont know the origin. I like to think maybe she's related to Superman, whose Kryptonian name is Kal-El.
Likes:
Some treats:

Millet on the spray
Safflower (usually)
Chop
Hulled sunflower

Her husband bells
Nesting in weird places
Cuddling, sometimes